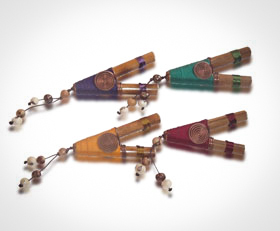 Beautifully designed V-shaped bamboo self-applicator pipe, which are known as 'kuripe' in the Brazilian tradition. They are used to blow or 'pass' rapé to oneself.
They are exquisitely decorated with copper designs, multi-coloured threading, acai beading, and lovingly handmade in Brazil.
*Please note that the shade of the main color, and threading design may vary with each different batch. So, they may be slightly different from the online product photo.
The size is approximately 7cm-9cm.